The prices of residential flats in the Mumbai Metropolitan Region has seen a dip of nine per cent on an average. According to a report by Knight Frank, an international real estate consultancy firm, realty prices has seen a maximum dip of eight per cent in Mulund, followed by Goregaon, where there was a six per cent dip in the first half of 2018 as compared to the last 12 months. Despite undertaking corrective measures, sales haven't picked up much, and is hardly one per cent higher than the previous year. Moreover, the average size of homes has shrinked by 12 per cent.
In areas like Panvel and Badlapaur the prices have come down by 10 per cent, while in Ghodbunder Road and Dombivali prices have slashed by seven per cent. However, the average per sq ft price in MMR is Rs 7,333. There has been hardly any change in prices in South Mumbai, Ghatkopar, Powai, and Bandra. In Central Mumbai, areas like Lower Parel and Worli has seen a one per cent drop in prices. In suburbs such as Andheri, a drop of two per cent was witnessed, followed by four per cent in Borivali and Dahisar, eight per cent in Mira Road, six per cent in Virar, one per cent in Vashi, and four per cent in Kharghar.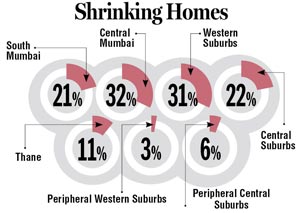 According to Dr Samantak Das, Chief Economist & National Director, Research, the effective price drop is close to 10-15 per cent, as builders offer freebies and incentives. This has become the norm these days and almost 80-85 per cent developers offer schemes now.
As per the report, Mumbai saw a significant jump in new launches at 35,974 units in H1 2018, compared to 15,765 units in H1 2017, recording a a growth of 128 per cent in a year-on-year basis. This growth is attributed to the temporary lift of the construction ban in BMC region, low base effect created by the disturbances of demonetisation, RERA and GST, developers launching smaller units with lower ticket size to cater to market demand and large scale affordable housing projects being undertaken in peripheral suburbs.
However, in spite of so many launches and price correction, the sales aren't very impressive. While there is not concrete answer to this, Das says that Mumbai home buyers are still waiting and watching the mood, expecting the dust created by the policies to settle down.
The average size of homes in Mumbai has also dipped. The report mentions that a significant portion of the populace is salaried, and for most of them, owning a house remains a distant dream. In response to this discontent, developers are now launching smaller size units to be able to bring down the ticket size.
The unsold inventory in MMR stands at 1.19 lakh units, with highest of 22,912 units in the central peripheral suburbs, followed by the central suburbs, where 21,679 units remain unsold. The least unsold units at 1,024 is in South Mumbai, while in central Mumbai the unsold units stand at 4,780. The western suburbs have 19,112, while the western peripheral suburbs have 14,530 unsold units, respectively.
In the office space, new completions have sunk by 42 per cent compared to the previous year, and 60 per cent of the new inventory is in peripheral business districts. A lot of time is consumed by occupiers because of lack of quality office space in desired business districts. The Mumbai office market has seen an average rental dip by eight per cent, and it is at 109 per sq ft per month now and the transactions are lower by seven per cent. In south Mumbai, there is a dip of five per cent in office rentals, while in central Mumbai and BKC there is an increase by five per cent and two per cent, respectively. In the western suburbs, there is an increase of four per cent, while in the central suburbs it has increased by two per cent.
STAGNATED SALES
Across India, the residential market saw a jump of 46 per cent in new launches — which were mostly concentrated at lower ticket sizes — while 51 per cent of the total supply concentrated in the under Rs 5 million segment. Mumbai, Pune, and Kolkata saw a price drop of 9 per cent, 8 per cent and 8 per cent, respectively. Sales stagnated despite increased launches, reduced prices, and government reforms and incentives. Bengaluru saw an increase, while Kolkata witnessed the sharpest drop amongst all markets. There were 91,739 units launched across India, and the sales saw an increase of three per cent. while the unsold inventory dropped by 17 per cent.
MARKET GROWTH
Across India, the office space market saw the highest transaction volume in six years, with a growth of 13 per cent. Pune experienced the maximum growth in transaction at 118 per cent, while Bengaluru continued to clock the highest transaction numbers. New completions were down by 10 per cent. Mumbai saw maximum space come online, while NCR witnessed the most year on year growth in office supply. Bengaluru saw the highest growth at 17 per cent, while relatively lower priced business districts led to reduced rental for Mumbai. Co-working service providers account for 13 per cent of total transacted space.