MUMBAI: The builder of Parel's Crystal Tower, where a fire broke out on Wednesday, was collecting Rs 3,500 as monthly maintenance charge from resident for the upkeep as a society has not been formed. Some of the flatowners have not been paying the charge, demanding OC and conveyance so that they can form a society.
Advocate Gunratan Sadavarta, a resident of the building, said, "The builder sold all flats and left without ensuring that we should have OC. So, many of us were not paying him any charges."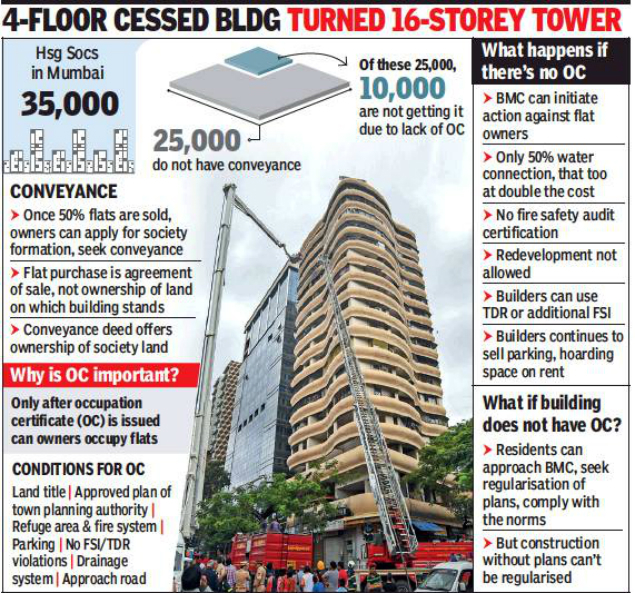 A shopkeeper on the ground floor of the building said a four-storey chawl building stood on the land before builder Abdul Razak Ismail Supariwala took it for redevelopment in 2006. He recalled that a portion of their six-decades old building collapsed during the 2005 flood, causing fear among the resident. Consequently, they accepted the redevelopment proposal of Supariwala and he submitted a proposal to the BMC in 2006 to construct 16-floor tower.
He was supposed to rehabilitate occupants in the new tower, and was allowed to sale the remaining flats to recover his cost and profit. As it was cessed building redevelopment project, the BMC granted special concession for more FSI.
Before the project was completed before 2013, Supariwala allegedly amended the original building plan twice. Upon completion when he applied for OC, the BMC rejected the application in 2013 for non-compliance of several conditions.
Some tenants of the old building claimed that the builder had stopped paying for their rent for transit accommodation, so they moved into the new Crystal Tower despite knowing that it did not have the OC.
The civic body's estate department said the plot ownership is with BMC. An official said they did not issue NOC to the builder in 2013 to get OC because he had not paid the Rs 21 lakh one-time premium for construction on BMC-owned plot.
Another civic official said they have demolished few illegal changes in the building two years ago, have already filed a complaint against the residents in local court and issued notices to all the 58 flat owners in 2016 for unauthorised occupation.